was sworn in as Tanzania's president at State House in Dar es Salaam on Friday, making history as the first woman to hold the top job in the East African country.
The 61-year-old's inauguration comes two days after she announced the passing of President John Magufili
Born in Zanzibar, Tanzania's semi-autonomous archipelago, in 1960, Hassan went to primary school and secondary school at a time when very few girls in Tanzania were getting educations as parents thought a woman's place was that of wife and homemaker.
After graduating from secondary school in 1977, Hassan studied statistics and started working for the government, in the Ministry of Planning and Development. She worked for a World Food Program project in Tanzania in 1992 and then attended the University of Manchester in London to earn a postgraduate diploma in economics. In 2005, she earned a master's degree in community economic development through a joint program between the Open University of Tanzania and Southern New Hampshire University in the U.S.
Hassan went into politics in 2000 when she became a member of the Zanzibar House of Representatives. In 2010, she won the Makunduchi parliamentary seat with more than 80% percent of the vote. She was appointed a Cabinet minister in 2014 and became vice-chairperson of the Constituent Assembly that drafted a new constitution for Tanzania, a role in which she won respect for deftly handling several challenges.
In 2015, Magufuli selected Suluhu Hassan as his running mate — a surprise choice over many more prominent members of the ruling Chama Cha Mapinduzi (CCM) party.
Suluhu Hassan is also the country's first president born in semi-autonomous Zanzibar. She attended school at a time when very few Tanzanian girls were offered the opportunity of an education outside the traditional roles of wife and homemaker. She is also a practicing Muslim.
Tanzanian activist Maria Sarungi said the significance of her background should not be underestimated in the context of Tanzanian politics.
In 1978, Suluhu married Hafidh Ameir, at present a retired agricultural officer. They have four children. Her daughter Mwanu Hafidh Ameir (born 1982), the couple's second child, is a special seat member of the Zanzibar House of Representatives.
'Time to stand together'
In her first public address as president, Suluhu Hassan — who is affectionately known as Mama Samia — said it was a difficult day in her political career.
"Today I have taken an oath different from the rest that I have taken in my career," she said. "Those were taken in happiness. Today I took the highest oath of office in mourning."
However she assured Tanzanians that Magufuli, "who always liked teaching," had prepared her for the task ahead and encouraged national unity.
"This is the time to stand together and get connected," she said. "It's time to bury our differences and show love to one another and look forward with confidence."
Suluhu Hassan will complete Magufuli's second five-year term in office, which began in October 2020 after he won general elections. Hassan also announced 21 days of mourning for the former President as well as public holidays on March 22 and March 25, when Magufuli is due to be buried.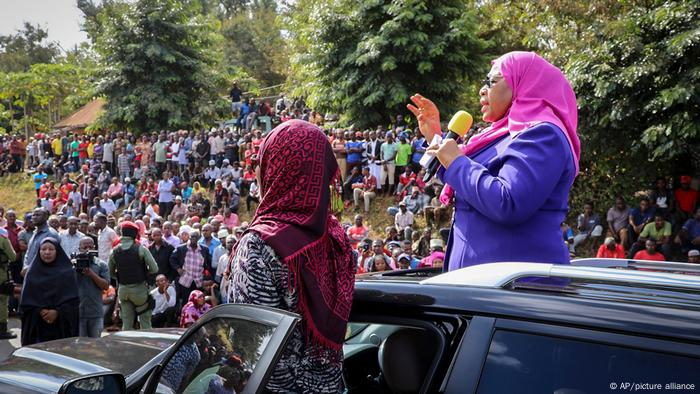 We wish her well.