Young people have the power to change the world – those are the words of The Diana Award, set up in memory of Princess Diana, who during her life doggedly pursued positive change in the world.
The Diana Award honours young people between the ages of 9 and 25 from across the world, who impact positive change in the lives of others and their community, their country, and the world.
In 2019, 9 young Nigerians are among the few selected from across the world, recognised for making an impact on Nigerian lives and on Nigeria. They include:
Meukara Monday
Lekeh Development Foundation. 24
Muekara has been volunteering with an environmental group called Eco-Club, aimed at educating primary and secondary school students to learn about their environment and how to take action. Through campaigning, he has raised awareness of issues from dropping litter in the playground to the illegal cutting down of trees and engaged his community to take responsibility for their planet. Muekara also teaches subjects including Maths and English, educating students on the Sustainable Development Goals. His aim is to raise global leaders across the 24 schools his Eco-club has reached, empowering young people to make a change.
Precious Adebola
Precious Fount Foundation. 25.
Precious has embarked on a number of selfless services to help disadvantaged students in Nigeria. She started a scholarship for students in the Nigerian village of Ufodo and has also initiated a project that prepares students for their return to school by providing them with Back to School packages. In addition, she supervises mentoring sessions and an online academic support group. Precious has overcome challenges including sourcing the funding for her projects, requiring her to leverage on her social skills and inspire others towards her mission to strengthen Nigeria's educational system.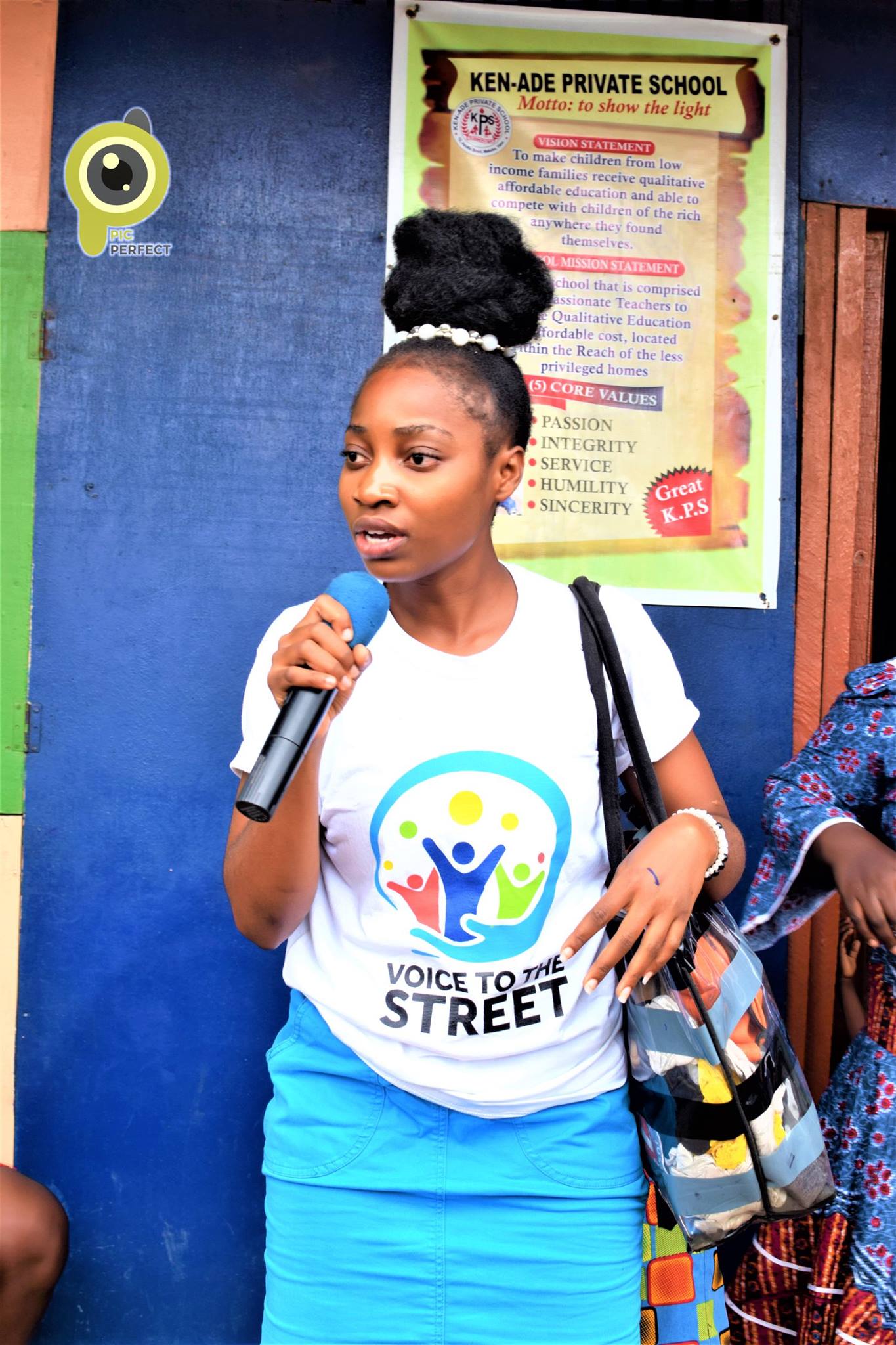 Eedee-Bari Bawoh
Voice To The Street. Lagos. 22.
After seeing so many children falling into the traps of the street, Eedee-Bari was inspired to take action. She made it her mission to empower children through education, giving them the best life chances possible. Since founding 'Voice to the Street', Eedee-Bari has supported over 1,350 street-children through counselling events, scholarship funds and the distribution of educational materials. Thanks to her hard work, and the coordination of over 50 volunteers, Eedee-Bari is building new futures for children throughout Lagos. Eedee-Bari used to find it hard to speak out but now she has gained enough confidence to see a wrong and opt to make a difference. And that difference is only going to keep on growing.
Wadi Ben-Hirki
Wadi Ben-Hirki Foundation. 22.
Wadi founded her non-profit organisation at the age of 18, focused on improving the lives of women and children, and now uses her voice to amplify the issues surrounding education, peace and gender inequality. Wadi's organisation runs four main projects and campaigns to empower marginalised and disadvantaged people. 'Street to School' focuses on free and inclusive education. 'Girls Not Wives' advocates against child marriage, 'Love in the Midst of War' rehabilitates survivors of insurgency. 'SHEROES' empowers young girls and women to be the best version of themselves, helping them to dream beyond their present and become great leaders. Wadi's work is changing the lives of young people across Nigeria.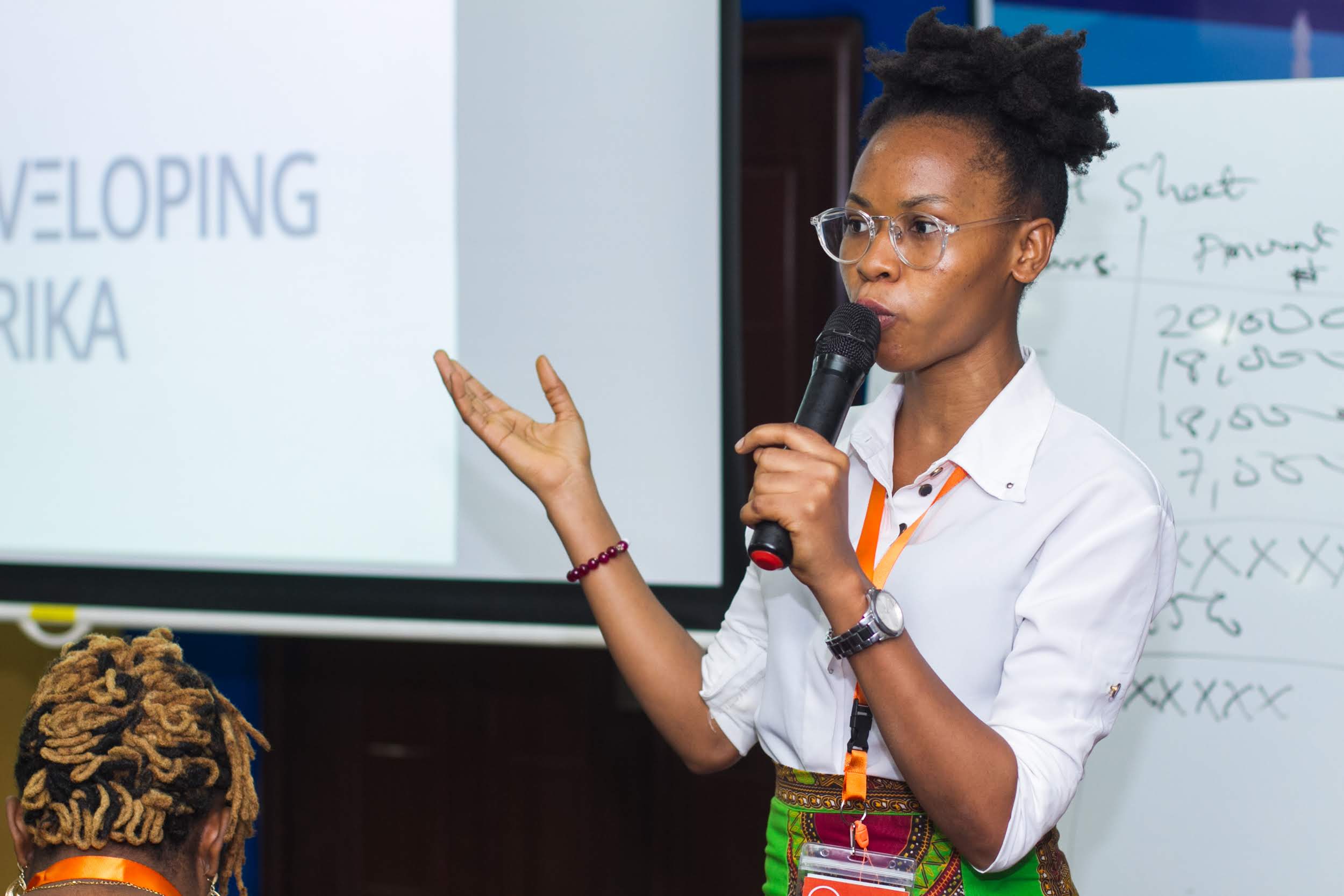 Chidinma Okoli
Financially Literate Africa. Lagos. 23.
After witnessing first-hand the level of poverty prevalent in her community, Chidinma founded Financially Literate Africa – a financial education organisation for young Africans to bring themselves and their families out of poverty. In this capacity she provides young people with financial advice to become economically empowered and financially literate. Through her campaign "Be Financially Intelligent" over a thousand young people took part in activities that would benefit their future financial self. She has mentored over 50 young girls on financial literacy through the G7 initiative and has become passionate about bringing financial stability to young people in poverty.
Marvellous Olusegun
The Invasion Foundation. 24.
Marvellous founded "The Invasion Foundation" which carries out free breast and prostate cancer screening in Nigeria – a country which has one of the worst cancer:death ratios in the world. Cancer statistics in Nigeria were so alarming that Marvellous became determined to lead the fight against cancer and so far his efforts have directly affected 8,000 lives and saved more than 50 Nigerians from needless deaths. Through the foundation, Marvellous has gathered a volunteer base of 350 college students, making it the first youth led cancer initiative in the country. Marvellous is a trail blazer, he identified the gap in the healthcare system and plunged into it.
Kennedy Ekezie-Joseph
Calabar Youth Council For Women's Rights. Calabar. 20.
Kennedy's work addresses the scourge of female genital mutilation (FGM), gender-based violence and the stigma attached to menstruation in Nigeria. He established the Calabar Youth Council for Women's Rights and, through research and advocacy, worked with partners to establish and run safe houses for victims of FGM. His work distributes menstrual products to Nigerian girls unable to afford them – focusing on children at risk of dropping out of school, and prisoners. Additionally, his work seeks to empower women: the safe houses are also schools for the residents, and he has worked with The Girl Generation in Nigeria to help bring STEM education to schoolgirls.
Victoria Ibiwoye
One African Child Foundation. Lagos. 25.
Amidst the responsibilities of studying for her law degree, Victoria founded the One African Child Foundation to address the inequality in education. Having faced difficulties herself, Victoria understood the power of education in transforming lives, breaking the cycle of poverty and building peaceful and resilient societies. Through activity-based workshops on global citizenship education, life skills and peace building in violent communities, the One African Child Foundation has worked with and trained over 4,000 children from disconnected communities and provided mini grants to 25 young change makers across Africa. Victoria is youth representative of the SDG Education 2030 Steering Committee and is a strong voice for education both in Nigeria and globally.
Mariam
Pearls Africa Foundation. Lagos. 22.
Described as a 'strong and fearless' leader in the volunteering field, Mariam inspires and educates young people to also become volunteers. At the age of just 22, Mariam has already volunteered for over 100 organisations. After attending a developer meet-up where she was the only female present, Mariam was inspired to encourage more girls to take up coding. Currently volunteering with Pearls Africa Foundation (popularly known as Girls Coding, a CNN Heroes Top Ten Nominee 2018) Mariam motivates young women with her communication, negotiation and programming skills, leading them through their own personal and professional development.
Several other Africans also received the award, making impact in their home countries of Ghana, Benin, Tanzania and Kenya. They include:
Julio Muhorro of Ideia Lab from Mozambique. 23.
Saul Mwame of the United Nations from Tanzania. 19.
Efua Asibon of the The Swarthmore Lang Center for Civic and Social Responsibility from Accra, Ghana. 25.
Ida Na-Tei of Techworld Hub from Ghana. 22.
Catherine Nakayemba of Gejja Women Foundation from Uganda. 22.
Nora of Bedayaa Organization for LGBTIQ+ from Cairo, Egypt. 25.
Margaret Oslo Odhiambo of Streetwise Transformers from Nairobi, Kenya. 22.
Meganne Lorraine Ceday Boho of Sephis from Abidjan, Cote d'Ivoire. 24.
Esi of Heritage and Culture for Development from Ghana. 17.
Castello Semevo Zodo of Youth and Green Jobs for a Green Economy from Benin. 23.
Freda of Inspiring Young Achievers Network from Ghana. 25.
Tanatsei Gambura of The 25 May Movement from Zimbabwe. 20.
Zanji Sinkala of She Entrepreneur And Women Taboos Radip from Zambia. 23.
Phyllis Wanja Gitimu of Afyakili Organization, Nairobi, Kenya. 24.
Joseph Ssengooba of JBCaring Hearts from Uganda. 24.
Susan of The Mesh from Harare, Zimbabwe. 22.
Agnes Kabonesa of World Vision Uganda from Uganda. 25.
Erick Venant of Roll Back Antimicrobial Resistance Initiative from Tanzania. 25.
Brightstar Kasyoka of Brightstar Rose Foundation from Kenya. 20.
Ziyaan Virji of The Age Khan Academy in Mombasa, Kenya. 17.
Divine Kporha of Mental Health and Wellbeing Foundation from Ghana. 24.
Wantoe Teah Wantoe of National Children and Youth Advisory Board from Monrovia, Liberia. 24.
Christelle Kwizera of Water Access Rwanda in Rwanda. 24.
Elizabeth Wathuti of Green Generation Initiative from Kenya. 23.
Trevor Lichuma of Save the Future Leader Organization from Nairobi, Kenya. 24.
Cape Town Diabetes Initiative's Primary Health Care Directorate, University of Cape Town. Ages 21 – 25.
Louise of Sophie A Kanza Foundation from Johannesburg, South Africa. 25.
Infinite Research Institute. Ghana. Ages 22-25.
Nicholas Luweesi of Refugees for Prosperity, Kampala, Uganda. 23.
Project Imagine in Nairobi, Kenya. Ages 14-18.
Credit: Bella Naija