A new study has analysed the differences in library size and monthly cost of Netflix subscriptions around the world.
The authors of the study looked at the figures based on the number of TV shows and movies available in 78 countries(according to the most up-to-date figures from both uNoGS and Finder.com) which they divided into the monthly subscription price to establish each country's cost per title per month.
The study, by Comparitech, showed the disparity when cost per title (TV shows and movies) is analysed between different countries.
"American customers may have the largest choice of titles on Netflix but they don't get the best value for money. Our study shows a massive disparity when cost per title is analysed between different countries. Due to the cheap price and number of titles available, Canada is actually the most cost-effective country to watch Netflix in, with US and UK customers paying 10 or 13 percent more per title than Canadian customers, respectively," the authors of the research, said.
The study revealed that customers in Denmark pay 98% more per title compared to Canadian customers and around 90% more than U.S. and UK customers.
See top 10 cheapest countries (on cost per title basis):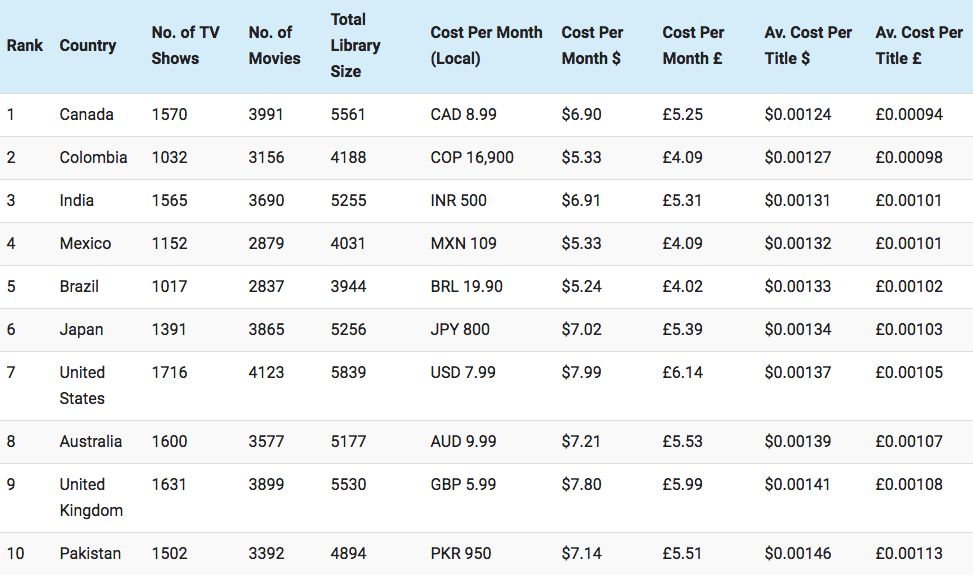 See data on other countries below:
This study is a follow up to Comparitech's research on Netflix's war against VPNs. Based on over 5,000 tests the study highlights how effective 59 different VPNs are at unblocking 30 international Netflix catalogs.
VPNs, or Virtual Private Networks, are a popular means of accessing Netflix TV shows and movies that are not available in the user's home country.
Credit: Bella Naija