Juliet Ehimuan, Google Nigeria's Country Director has been named as one of 30 People Who Are Changing the World by London Business School Review.
LBS Review says about her:
Juliet Ehimuan wants to raise human dignity by helping to develop human capacity and create opportunities for growth. But Ehimuan is not a charity boss or a UN chief. As Country Director of Google Nigeria, she's a global tech leader whose contributions to technology and entrepreneurship have won her multiple awards and recognition, including being named one of Forbes' 20 Youngest Power Women in Africa and featuring in the third series of the BBC Women of Africa strand, Power Women.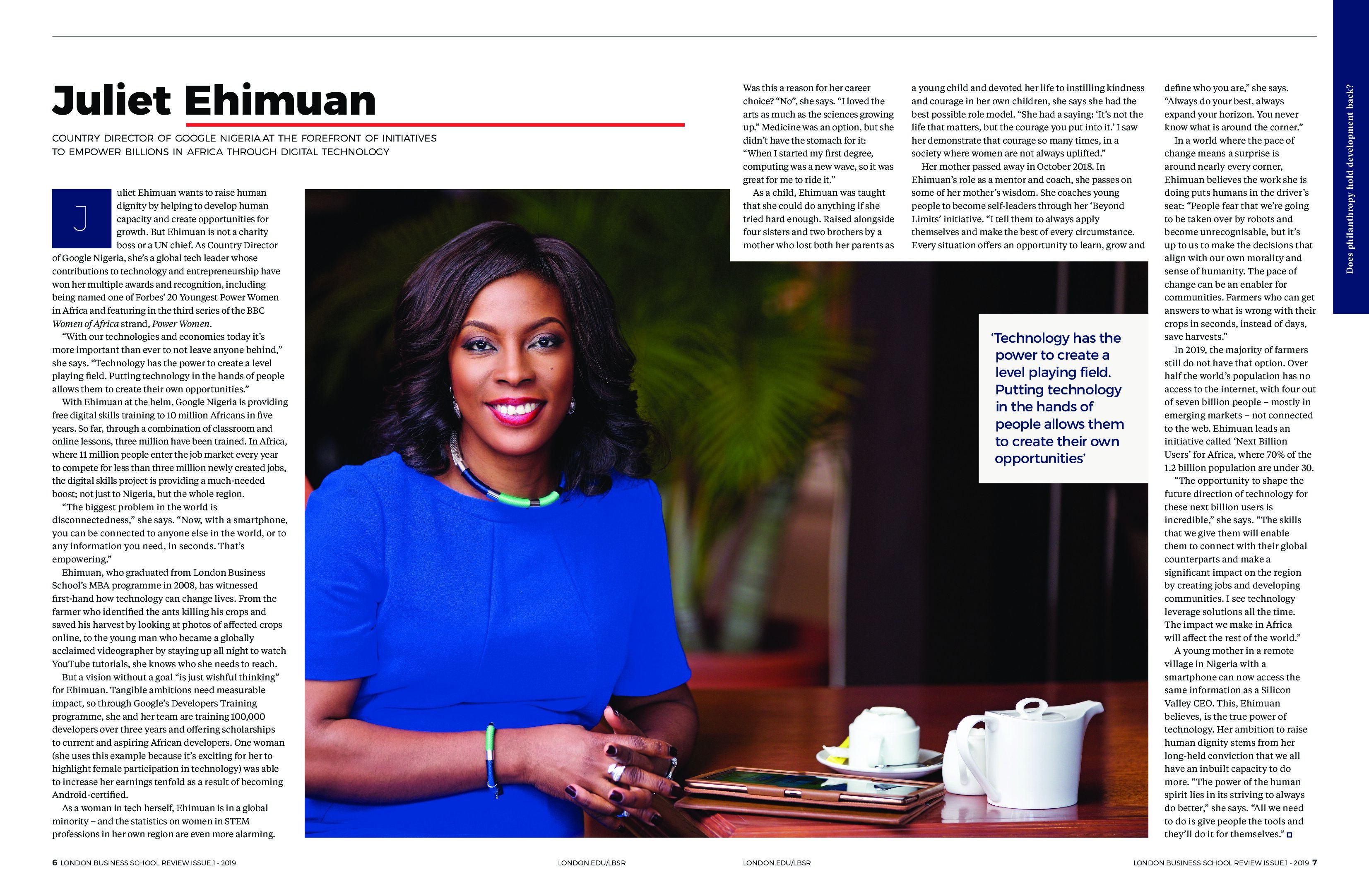 Ehimuan runs "Beyond Limits" initiative where she coaches young people to become self-leaders.
"I tell them to always apply themselves and make the best of every circumstance. Every situation offers an opportunity to learn, grow and define who you are. Always do your best, always expand your horizon. You never know what is around the corner," she told LBS Review.
In 2017, she worked with thirteen young women from the disadvantaged area of Kiri Kiri, Lagos on an intensive boot camp to transform the lives forever.
Meeting every weekend over a three month period, she worked with them on self-development, leadership skills, personal and organisational effectiveness, and business skills – transferable competencies all required for any leader, whether in the field of STEM, fashion, catering or the creative arts.
Today, under her helm, Google is transforming lives and placing Africa at the forefront of the future of technology. Free digital training is being offered to ten million Africans in five years with three million already trained so far. This will give digital skills and certifications to young people, giving them an edge in an over-saturated job market.
Credit: Bella Naija